The range of Sassafras Cherry Delicious I can use over and over again. I love the vintage images with the bright retro colours on the side? The banners are also a hit with me as I love creating the titles in the banner.
This is my third layout using this range. I don't know how many times I tried to get a photo of Braedon holding Mason, he just kept saying "No", so I didn't push it. Finally when Mason was three months old or so Braedon agreed to hold him "Just for a minute". Of course I whipped out the camera and took heaps of photos.
The most versatile product in this range has to be the
sticker banners
as I have used them in every layout, and still have about half left of the one sheet. So if your looking for something different that goes a long way, then this is a great sheet of stickers to purchase. The background papers used in the layout below are from Cosmo Cricket the
Daily Grind
. The 8 x 8 paper pad is part of my stash and has seen me through many a layout. The lil birdie in this layout is made by hand (Yes! by me!... using the HOTP
Birdie Template
. Using a scrap piece of paper from the Tea at Elsie's
Chamomile
paper Range by Kaisercraft. So a bit of everything in this layout, but the good thing is that it blended together. OH and must not forge the swirl brads (not in the store, however they are available) and mini alphas from Carolee's Creations
Random Alphas
This next one was of Braeon's graudation from Kindy, I think it was posted here before but will post it again.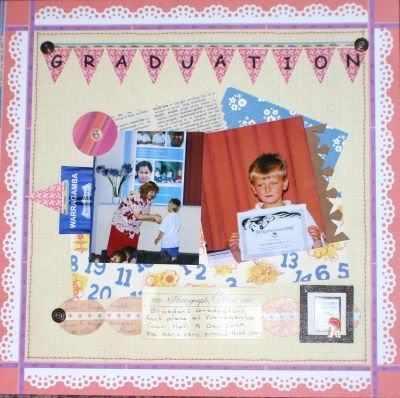 The first layout below I did using the Cherry Delicious range was again of Braedon on his first birthday.
For the month of July the whole range in store is 20% off or purchase all the papers for only $4.32