Ready for a simple and easy paper basket to make!
Takes about 10 mins - a good little project for the kids.

What you need

A piece of thick pp paper.
Brads
Embelly
Ribbon

Tools - paper cutter, scissors, glue, corner punch

Steps

Cut your pp 15 x 15 cm square. Can be any size as long as you can divide it up equally to make a 3 x 3 grid.

Rule up a grid of 9 squares - 5 x 5 cm in length and width. cut as marked in the attached template.

Punch all four corners with a decorative corner punch or rounder- should look something like this one below. The image is not that good...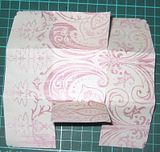 Cut your handle strip - about 10cm but you can trim is shorter if you prefer
and adhere a strip of ribbon along its length.

So that the middle square is on the inside - fold the two left and right squares so that they join at the top. Attach your handle and fasten with a brad.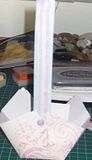 Do the same for the other side.

Attach an embellishment wherever your like really or some extra ribbon on the handle.

Your basket should look a bit like this..